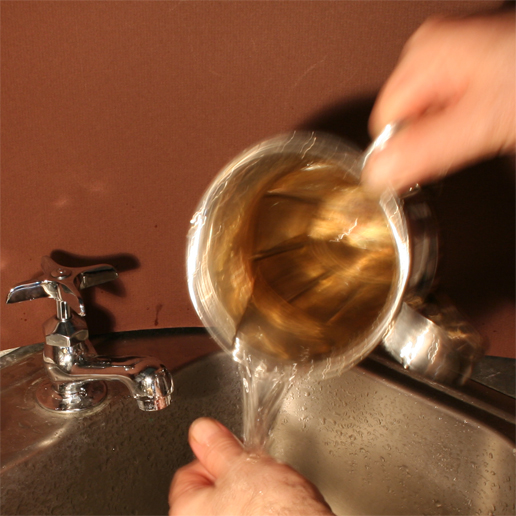 Ever wonder why...we wash before eating bread?
Our Rabbis instituted that every time a Jew eats bread he should "wash." Of course this is not a "surgical scrub" nor is soap required at all. Rather we pour water on our hands twice from a vessel such as a cup. Why was this law instituted almost exclusively for bread and not other foods? Why must the washing take place by pouring water on our hands?

The Halacha of washing for bread is unusual in that there are two reasons given for its institution. One is in order to remember the Beit Hamikdash and its practices and the other is for cleanliness and holiness.

The Torah set up a system to both honor and reward Kohanim for their service in the House of Hashem. During the time that the Mishkan and Beit Hamikdash stood every Jew gave a portion of their crops to the Kohanim. This was called Terumah. When a Jew gave the Kohen his gift of Terumah, the grain now became holy. It may only be touched by someone ritually pure. A person who became ritually impure, would contaminate the Terumah through touch. In order for an impure Kohen to be able to eat his Terumah, he would have to immerse in a mikvah (ritual bath.)

In order to help a Kohen safeguard his Terumah, the Rabbis instituted that every Jew should wash his hands before eating bread, even bread that was not made from Terumah. If every Jew was careful to only eat if his hands were ritually pure, then the Kohanim would be reminded to only touch the Terumah if they were ritually pure.

Even though today we don't have the Beit Hamikdash and Terumah, we still are careful to practice these Halachot. When the Beit Hamikdash will be rebuilt, may it be speedily in our days, our adherence to these Halachot will help the Kohanim remember and keep their special laws of Terumah.

The second reason is based on a pasuk, verse. The Torah tells us that Jews should make themselves holy. The Rabbis learn that this is referring to washing one's hands for bread. The Gemora tells us that one who eats bread without washing his hands is as if he ate impure bread.

The procedure for washing is to pour at least 4.5 ounces of water from a cup that does not have a spout onto the right hand. This is done twice, and then twice on the left. The hand is held loosely open so that the water can reach both the front and the back. The first time purifies the hand and the second washes off the water that had become impure. The Gemora tells us that the reward for using a lot of water is a will be blessed with wealth. The converse is also true. One who is not careful in washing could lead to poverty.

May a deeper understanding of this important mitzvah bring us to a stronger observance of it and its accompanying Brachot.

Rabbi Eliezer Kessler
Houston, TX