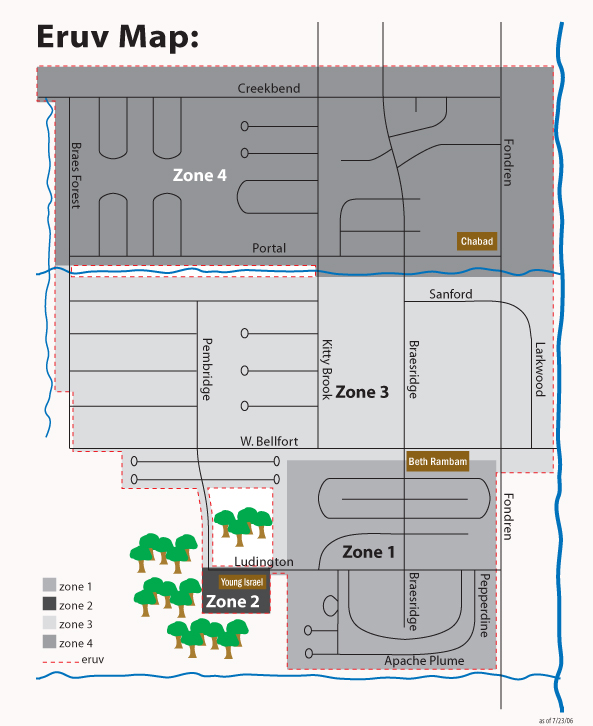 Ever wonder why...an Eruv allows us to carry on Shabbat?

The Melacha of Hotzoa, Carrying, is one of the thirty-nine activities that we are forbidden to engage in on Shabbat. All thirty-nine are derived from the Torah's description of all the activities that were involved in the fabrication, assembly and dismantling of the Mishkan that Bnei Yisrael used in the desert. Every time they traveled, the Mishkan had to be taken down, packed up, transported and then assembled again at the new location.

We learn, specifically, about the Melacha of Carrying from the kerashim which were the large upright beams that were used in the structure of the Mishkan. Due to their size and weight, these were transported on special wagons. The beams would be lifted off the desert floor by the Leviim and placed on the wagons. The desert floor which was classified as a reshut harabim or public domain was a different halachic domain than the wagons which were classified as reshutei hayachid or individual private domains. The Torah, therefore, categorized all transferring from one halachic domain to another as the Melacha of Hotzoa, Carrying.

In practical terms, this means that although a person may carry on Shabbat wherever he wants in a private domain, he may not carry from a private domain to a public domain, or in a public domain itself. It's important to realize that a private domain is not determined by ownership but rather by enclosure. Thus, a public building such as a synagogue would be a private domain but a privately owned sidewalk would not be.

As we mentioned, a person may carry on Shabbat in a private domain no matter how large that private domain happens to be. For instance, a person may carry wherever he wants in Reliant Stadium because Reliant Stadium is one large private domain. Similarly, a person may carry within the entire Old City of Jerusalem, as its surrounding walls make it halachicly one large private domain.

Now, an Eruv is basically a series of poles spaced at intervals and connected by wire which is strung along the tops of the poles. These poles totally circumscribe a specific area and halachlicly do the very same thing that the walls of the Old City do, namely, make the area within them, in effect, into one large private domain within which we are able to carry on Shabbat.

How do poles and wires equate to the actual stone walls of the Old City, you may ask? Well, the Gemora tells us that "halachic walls" need not be actual solid walls to be effective in this regard. Rather, a mere Tzurat Hapetach, which translates literally as an "image of a door frame", is sufficient. Minimally, a Tzurat Hapetach may be constructed of two uprights and a wire that travels on top. Hence, we get the modern day Eruv which surrounds our neighborhoods.
The Gemora also tells us that the laws governing these "halachic walls" are learned from a portion of the Oral Torah called "Halacha L'Moshe Mi'Sinai," which means that there is no written source for them in the Torah itself. Rather, Hashem revealed them directly to Moshe when he was on Mount Sinai.

As you can see, the Eruv and how it works is no simple matter. Scholars spend years studying this highly complex halachic mechanism in order to master it and to be able to decide questions regarding it. The bottom line for us is that the Eruv allows us to carry on Shabbat by halachicly combining all the various domains that exist in our neighborhoods into one large private domain. This enables us to carry both from inside our houses into the streets as well as within the streets themselves.

It should be noted that the efficacy of the Eruv is not accepted by all authorities. As with everything else, you should consult your own local halachic authority before deciding how to conduct yourself regarding carrying within the Eruv on Shabbat.

Rabbi Eliezer Kessler
Houston, Texas