PFI: vegetarian spaghetti


This won't take long to make if you nest the activities according to their critical paths to completion. The photos generally indicate the sequence in which the pictured activities should be done or will occur.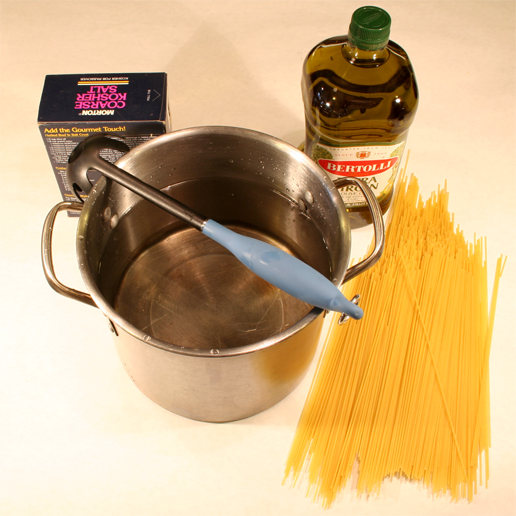 Put 3 qts of water and a little salt on the fire to boil for the pasta. Assemble the other ingredients shown below: ~ 4 lbs plum (Roma) tomatoes (no subs), spinach (1/2 std grocery store (g/s) bunch), basil (1 g/s bunch), celery, parsley (1 sm clump), onion, arbol (chili) peppers, garlic, olive oil, dry wine, salt and pepper.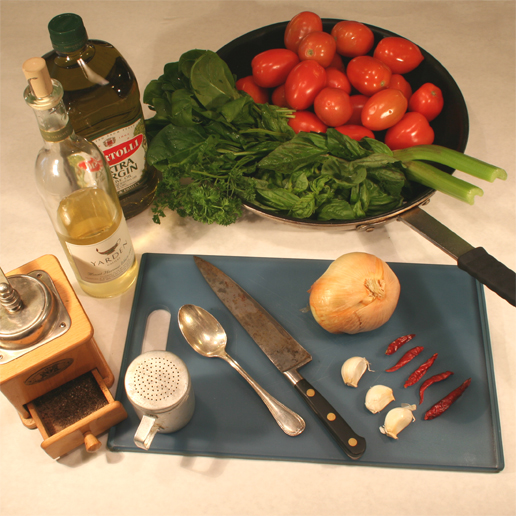 Pour a shallow lake of olive oil in a 12" fry pan, drop in the peppers and a few crushed garlic cloves, then put on high flame.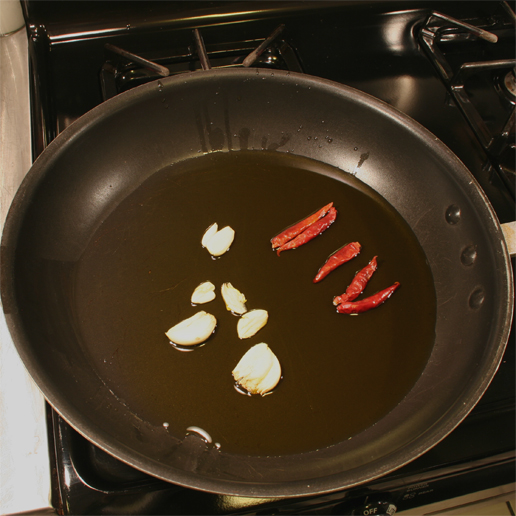 Roughly chop a good-sized onion and dump in the pan along with salt and ground black pepper, frying till dark brown.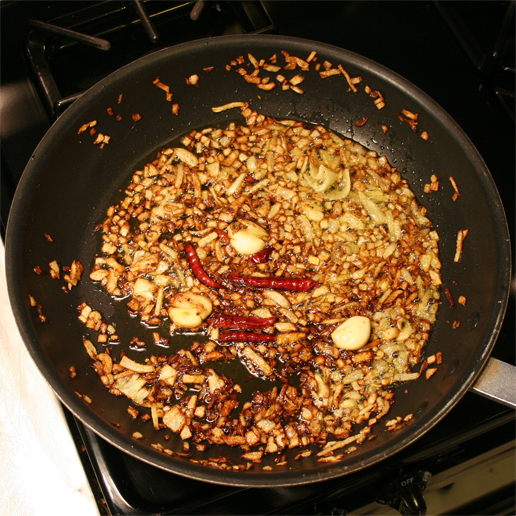 All the while chopping up the tomatoes, parsley, spinach, celery, and fresh basil.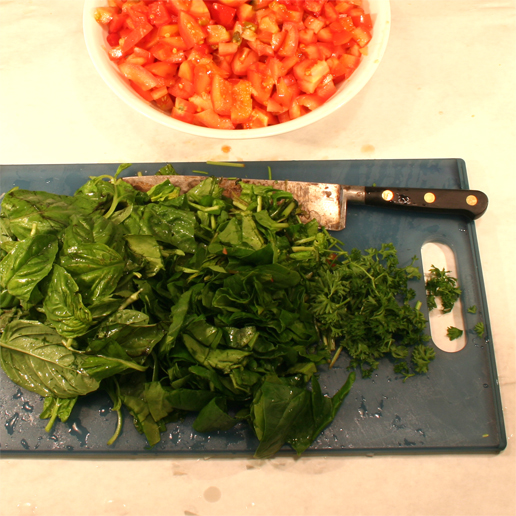 When the onions are done, dump in all the vegetables but the basil. Let saute a little then add 1/3 to 1/2 bottle of dry white (or red) wine.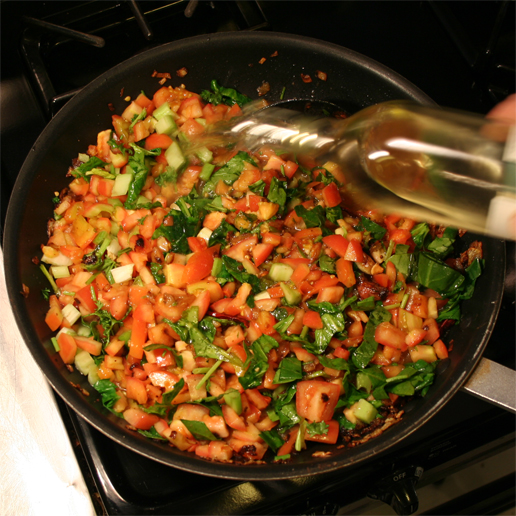 Stir up and cook until the vegs begin to soften, then tear up the basil and add to the mix.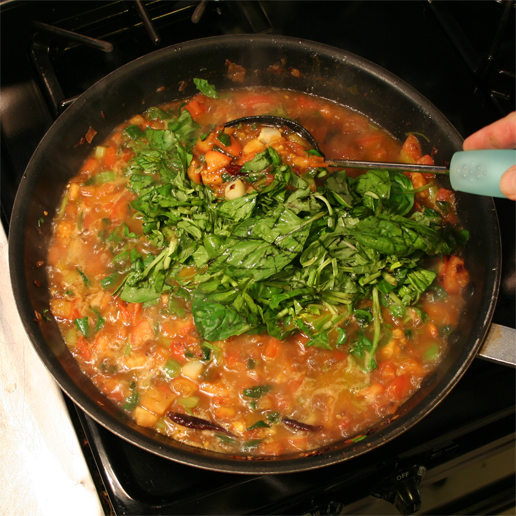 About this time the water should be boiling and you can dump in the pasta. Stir to submerge and separate, and add some olive oil.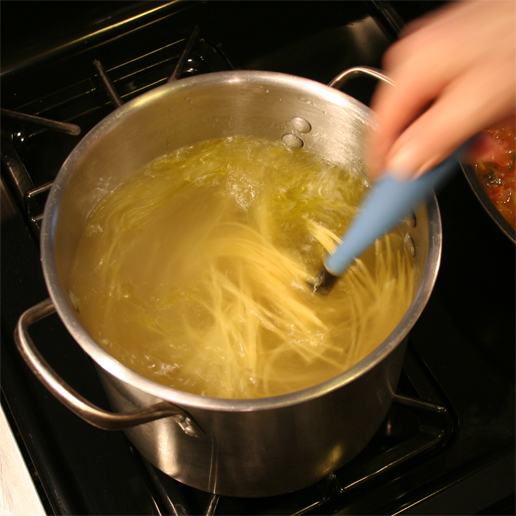 When done (not overdone) scoop out the pasta and don't rinse. Save the oily water to add to the sauce if too much liquid cooks out, or to dilute the sauce when serving.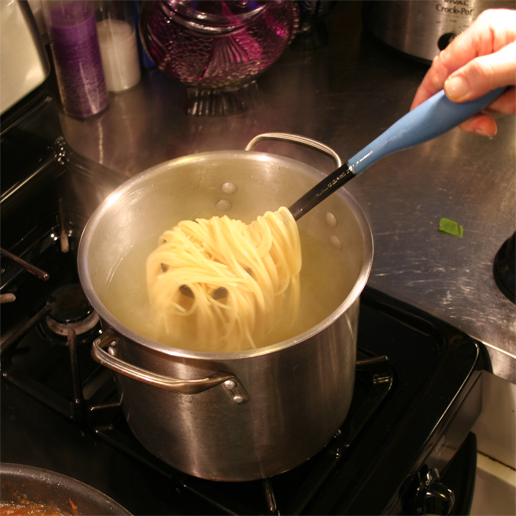 Now back to the sauce: check for taste and when its looks really saucey, pour into a food mill and expel all but the dregs into a pan. Note: most food mills have a crank on top and come with some kind of stand...this one does not. A food processor will do something similar, but,
believe it or not,
it will not taste the same. Skipping this step is also ok but the flavors will not develop so compatibly.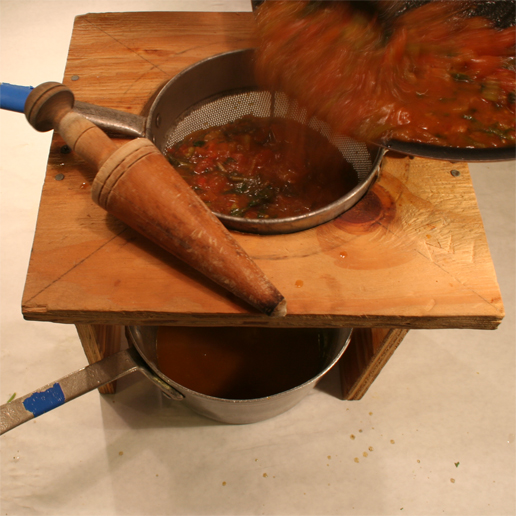 Put on the fire with at least a tablespoon of butter to finish. You can leave out the butter and make it parve if you want.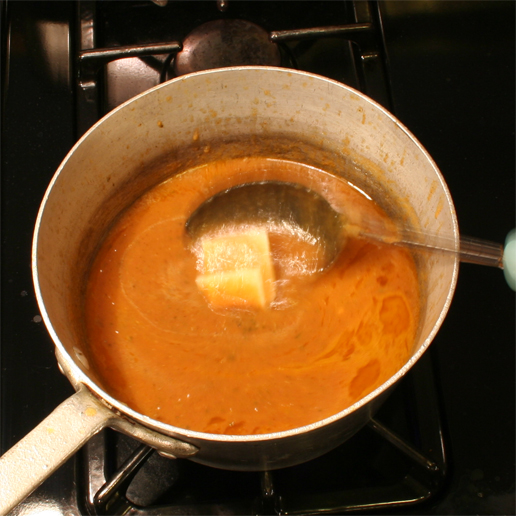 Now you're ready to eat...add cheese, red pepper flakes, or
what have you.


email feedback