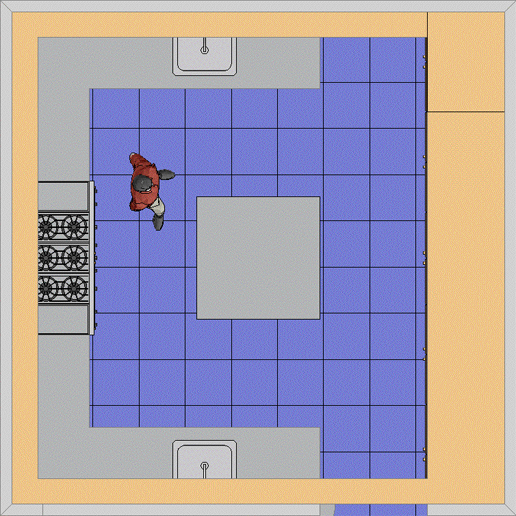 (see parts II and III below)
Plain Food Institute: Kosher Kitchen Planning - Part I
The
Plain Food Institute
maintains a fully-adjustable test kitchen in which every counter, every cabinet, every appliance, and every aisle may be tested for ergonomic and economic efficiency. PFI approaches the problem of kitchen design just as it does food preparation, looking for the quickest and least expensive solution to get the job done. Many people building a new kitchen or remodeling an old one select expensive appliances and materials hoping, maybe expecting, that the food cooked therein will benefit accordingly.
It ain't necessarily so.
We encourage the use of cheap imitations if they're good enough. In fact
good enough
is what we strive for.
The summary of our findings and recommendations is presented in two parts: (1) the conventional and (2) unconventional residential kosher kitchen. The conventional assumes the point of view of the typical residential consumer, the unconventional the commercial kitchen user. Unlike a commercial kitchen, however, a residential kitchen is usually operated by only one person. Still, there are methods, materials, and placements that can be applied from one to the other.
In a Jewish home the single most important communal activity is eating. If the dining room is the most important public space, the kitchen as its service component is the most important working space. As a food preparation hub, it serves three eating areas in most homes: the formal dining room, the informal breakfast room, and in season, the sukkah. Naturally, they are arranged so the kitchen can easily support all three.
Our model kitchen is visually open to the breakfast area and closed to the formal dining room. The first thing people do when remodeling older kitchens is to strip out the suspended cabinets, pass-throughs, or breakfast bars that divide the eating from the cooking area. Built-in breakfast bars or counters with high stools always look good...in theory or in somebody else's house...but usually turn out to be far less useful in practice.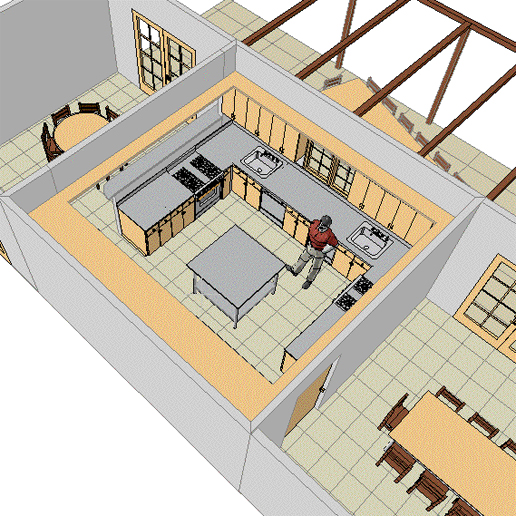 Although we like it to look nice, a kitchen must work. All the fixed components such as appliances, countertops, and storage must be situated for efficient access and configured to support the flow of work. If the human body is the measure of reach and travel, cooking processes determine configuration. While some processes specifically require heating, washing, or storage retrieval, almost everything requires mixing and assembly. That is why we always place a plain table at least 3' x 4' in the center of our kitchen. Never, but never put a sink or cooktop in an island!
Conventional counters are no substitute unless the kitchen is too small to contain an island work area. A two-foot-wide counter is too small even if it were not made smaller still by the junk often parked there. Therefore, we've added six inches to the counters. You can still use the standard two-foot-deep cabinets underneath positioned six inches away from the wall behind. This dimension also better accommodates larger ranges and refrigerators.
Walking aisles are generously proportioned for the occasional helper(s) or catering staff. A three-foot-wide aisle works fine for a single person, but can be cramped if people need to squeeze by each other.
If a little is good, more is not necessarily better.
Making either the aisles or the kitchen itself bigger can actually make it worse. There shouldn't be more than one step between either sink, stove, or storage and the central worktable.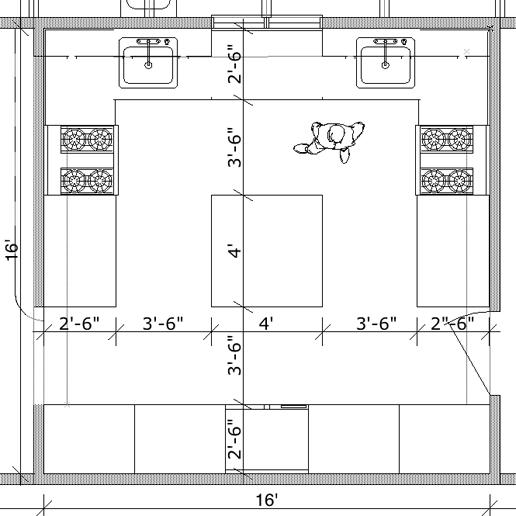 The U-shaped work area splits right and left at the window into a meat side and a milk side, each of which has it's own sink, dishwasher, and range. For kashrus purposes it's nice to have two sinks, two ovens, and two dishwashers, but no one needs two ranges. But, it's cheaper to buy two ranges with self-cleaning ovens and Shabbos-mode timers @ $500 than one wall oven @ $1000+ with the same features. Ranges and dishwashers cannot be wedged into corners where their opening doors might be obstructed.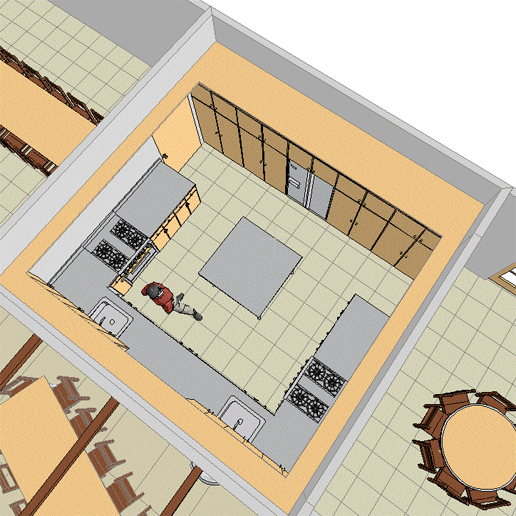 Cabinets are often used like wallpaper...people slap up a wall and base cab combo on every linear foot of wall not encumbered by a door, window, or appliance! Even with four sets of dishes you only need top cabinets adjacent to the washing areas. Pesach dishes and rarely used service items do not need to be stored on prime real estate. The principle purpose of the base cabinets is to support the countertops and provide utensil storage. However, seven-foot-high storage cabinets with adjustable shelves are better used for oversized and odd-shaped items, and in the configuration shown provide more pantry space than you'll ever need.

Don't bother with custom cabinets unless you find a reliable carpenter who'll build them cheaper from scratch. Most modular systems expandable in six-inch increments can be adapted to any space and configuration. MDF (medium density fiberboard) is fine for the cabinet body, but solid wood such as maple is best for the drawer and door fronts. Top cabinets, mounted 18" above the base cabinets, should not be over 30" high because you can't easily reach much higher anyway. In a room with 9'+ ceilings use the space above as a continuous display shelf for rarely used or decorative items.

Stainless steel is the easiet countertop material to maintain year-round and kasher for Pesach, however commercial-grade stainless is very expensive. We use 28-gauge which can be "broken" (bent) in any sheetmetal shop and installed on a plywood deck just like plastic laminate. It scratches and will show slight dimples if you really beat it up, but it endures and looks like you mean business.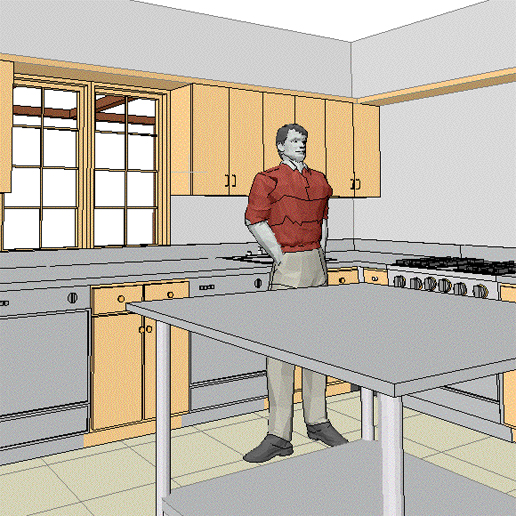 The opposite wall is dedicated entirely to dry and refrigerated storage. The worktable is a handy place to stage groceries prior to putting them away, or assembling items and ingredients before beginning to cook. The refrigerator, if installed as shown, needs some airspace all around to allow extracted heat to ventilate.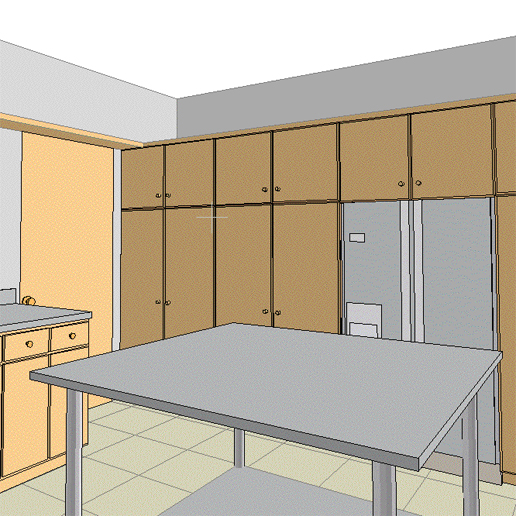 In general unless otherwise compelled buy the least expensive appliance as measured by the lowest effective unit cost. For example the effectiveness of a range is measured in btu's, so buy the most btu's for the money, and one with at least one 27-inch-wide self-cleaning oven. The Shabbos feature is useful if only because it disconnects the digital gizmos from changes in temperature or opening the door, but it's now available on even the cheaper units.
Gas is best, so forget the rest.
Most residential range hoods don't have large enough fans, and if they did, no one would turn them on because they'd make too much noise. We've done without for years. For a refrigerator it's the most useful cubic feet for the money, which turns out to be the old-fashioned top-mounted freezer type. Disposers are a pain on Shabbos and yuntiff unless you're careful to intercept the gunk before it goes down the drain...and, the Green Police are going to target them soon. Single stainless sinks should be at least 18" x 24" x 10" deep, and here bigger (but not fancier) might be better. Faucets should accommodate filling big pots and ignore fancy sprayers which often break. Dishwashers should be lined with stainless if you want to kasher them for Pesach. There are lots more gadgets trendsetters consider mandatory, but for those you're on your own. For a definitive discussion of appliances and halacha check the
Star-K website
.
However unlikely, we invite
feedback and questions
on this subject. We know much more than we've written, and would be happy to share our knowledge and experience.
Plain Food Institute: Kosher Kitchen Planning - Part II
The uncoventional kitchen strips function down to the bone. Expensive, redundant cabinetry is eliminated. A maximum btu commercial range with two ovens, two griddles, and lots of high-output burners replaces the two residential ranges. And, the sinks are set up like a restaurant kitchen with high-capacity commercial dishwashers. Dimensions are the same as the conventional kitchen.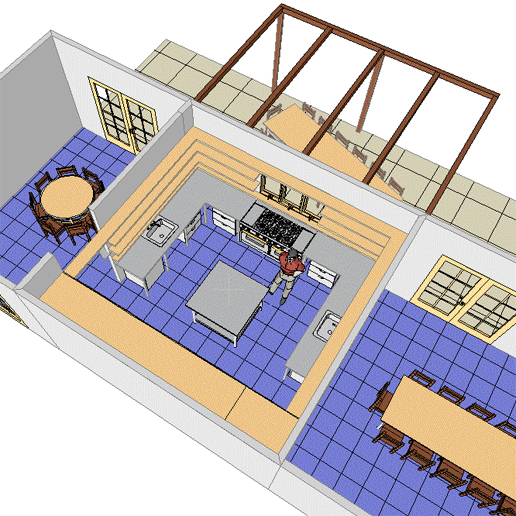 There are no cabinets at all. Fixed, uninterrupted, open shelving takes the place of the top cabinets, and rolling wire drawer carts serve in place of bottom cabinets. The stainless steel countertops are independently supported on stainless legs just like the freestanding central worktable. The storage wall remains the same.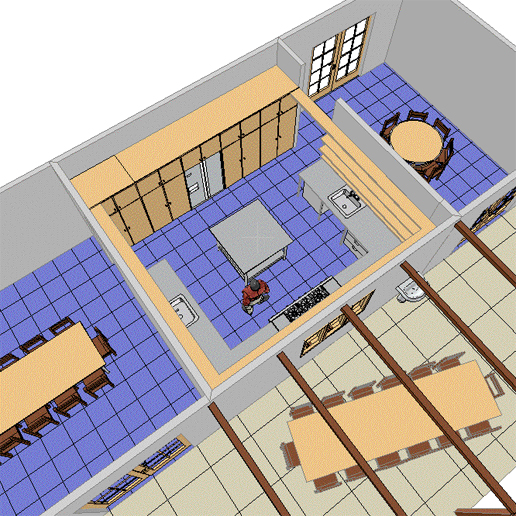 Recommending materials is really beyond the scope of this article, but we have a few guidelines. Use the same flooring throughout the food service area. We prefer neutral-colored, stone-surfaced, 18" square ceramic tiles. They have a nice scale, can be found in a variety of quiet but interesting colors, and are not expensive. The wood shelving shown here is #1 grade 2 x 10 lumber sanded and coated with clear urethane. Use gloss or at least eggshell finish for all painted surfaces because it's easier to keep clean.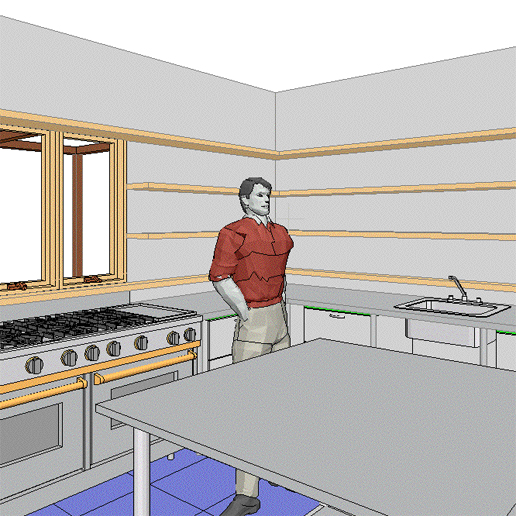 You're probably wondering who this guy is. He's Jack, our contractor and master of all trades...punctual, honest, reasonable, tidy, and unfailingly polite. His estimates are accurate and his word is his bond. Everything he builds is level, plumb, and square, and nothing he installs ever breaks.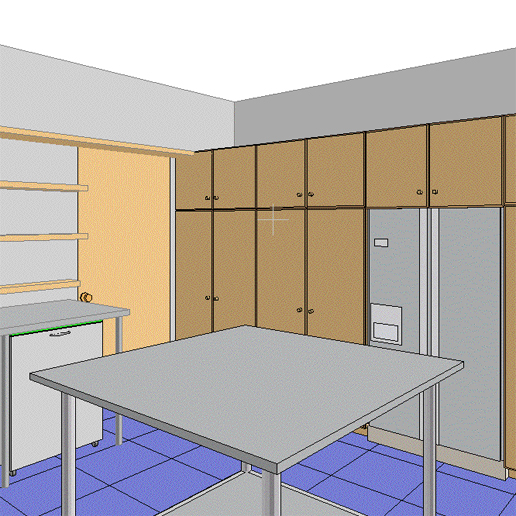 Plain Food Institute: Kosher Kitchen Planning - Part III



Now it's time to get real. Most people remodeling their kitchens do not have the luxury of choice...or space. And, unless prepared for major household surgery at major medical prices, they need to mind the built-in constraints. The following notes and sketches will apply to most middle-class houses built from the early '50's to the late '60's.

The planning principles applied above work here as well, but some limitations must be kept in mind. There'll be no room for an island! The typical kitchen space is only 12' wide at most, and at least 14' are required: a 3' square island with 3' of walk space all around plus 2 x 2.5' counters/cabs on either side. Don't even think about a 2' wide island...they're useless! Without an island the counters become the prime workspace, and should not be broken up by sinks or other fixed appliances into expanses too small to be useful. The basic working "U" on which all preparation occurs is supported by a bank of dry and refrigerated storage across the room.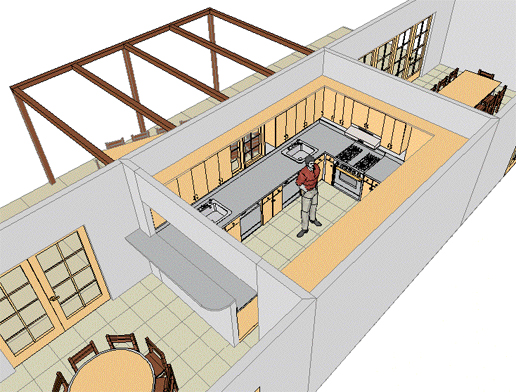 In general it is both economical and sensible to begin by tearing everything out and starting from a bare room. If the old cabinets are the full-overlay type (shown as the top cabs below), sometimes new drawer and door fronts can be fitted. If they are the partial overlay type (shown as the bottom cabs below), they cannot be economically retrofitted. A big advantage to tearing out the old cabs is the elimination of the fur-down characteristic of the era. The room will just feel bigger and you will gain the decorative/storage space above. If you use knocked-down DIY cab units such as Home Depot's Mills Pride brand, they will need to be reinforced with concealed brackets and glued joints to hang as shown below. Unless you've updated your appliances lately, throw them out too. Don't even think about saving sinks or faucets.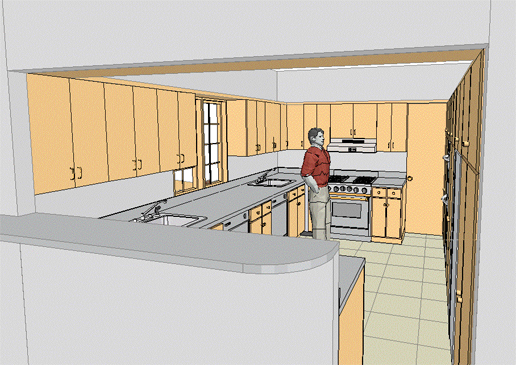 The existing sink is probably right under the window. If 2.5' counters are used over standard 2' deep bottom cabinets, there will be a 6" space in which drain, vent, and water pipes can be run from the existing drain to the new sinks on either side. No concrete will need to be broken to install the new plumbing. The stove will likely be where it's shown above so gas/220v electricity and vent hood duct will be right where you want it. If the existing stove is located between the breakfast area and the cooking area, bite the bullet and move it. The 4' high wall capped by a narrow shelf is not meant to be a buffet bar (but it could serve that purpose), but to hide the mess of the kitchen from the eating area.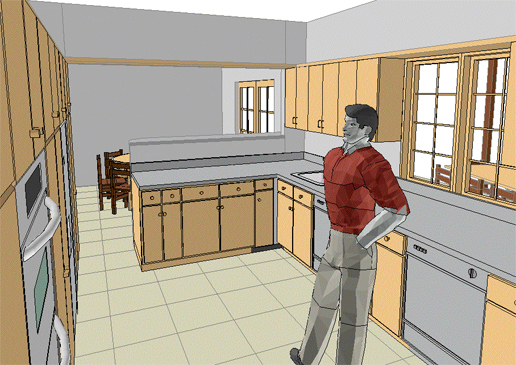 Jack's satisfied. Another job well-done!