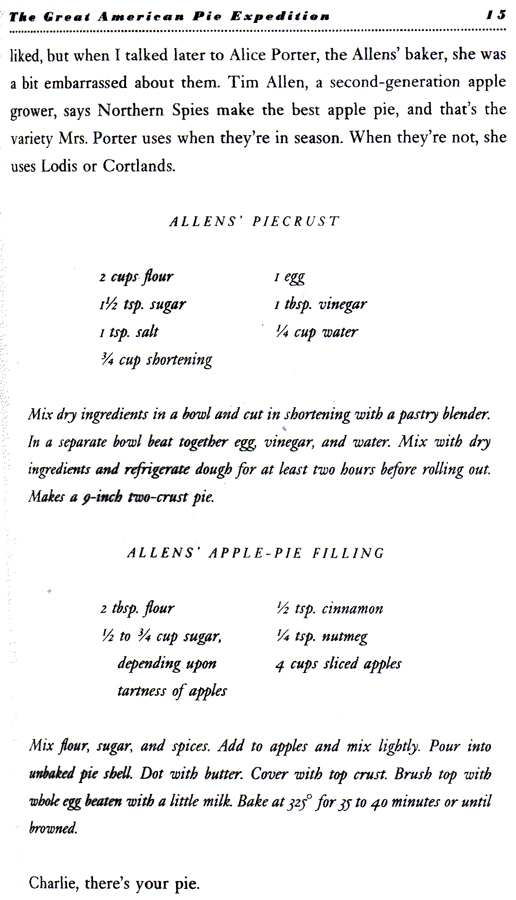 So, Charlie, here's what you'll need.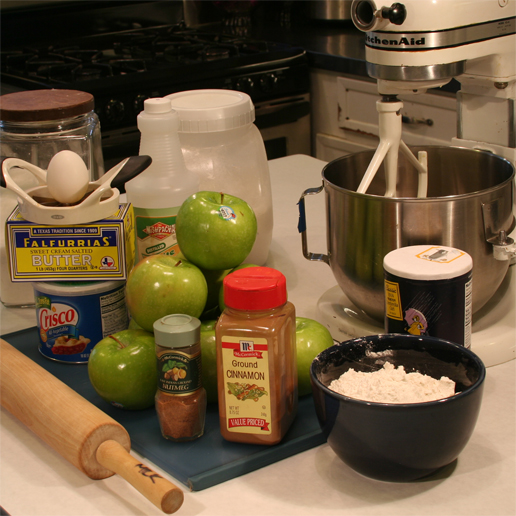 The flour and salt go into the bowl.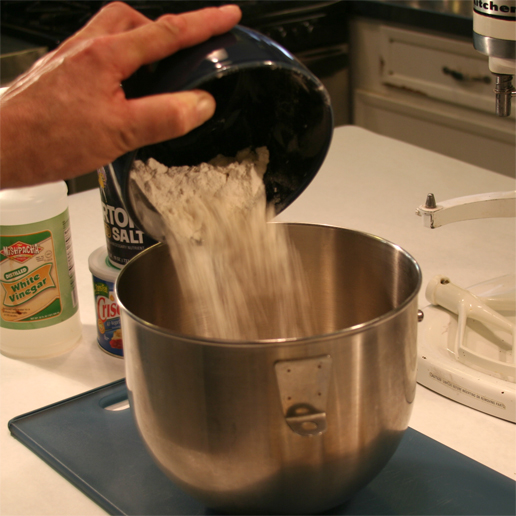 Add the sugar.
We have tried this with butter instead of shortening, but it is trickier to handle and the difference in taste is not worth the bother. Even this will be the best piecrust you've ever tasted.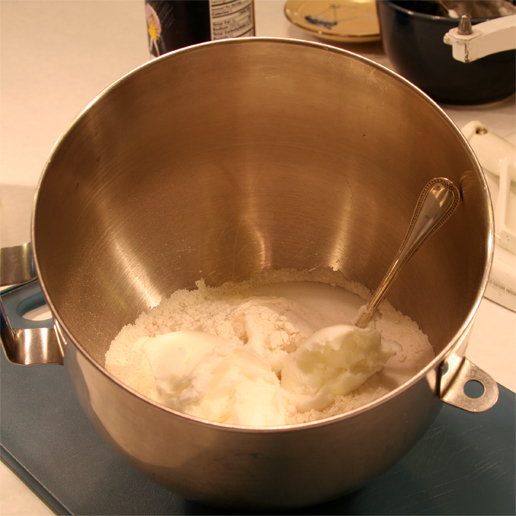 Cut in the shortening with the paddle mixer attachment on your MixMaster.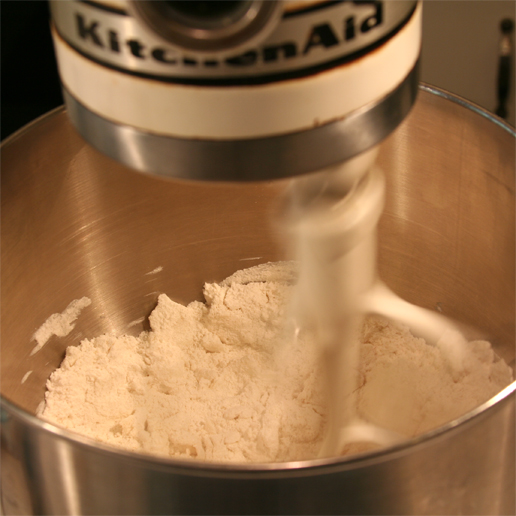 Mix up the egg, vinegar, and water.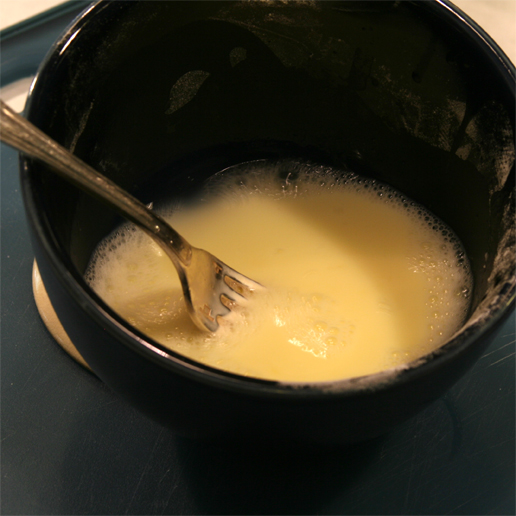 Pour into the bowl containing the mixed shortening and dry ingredients.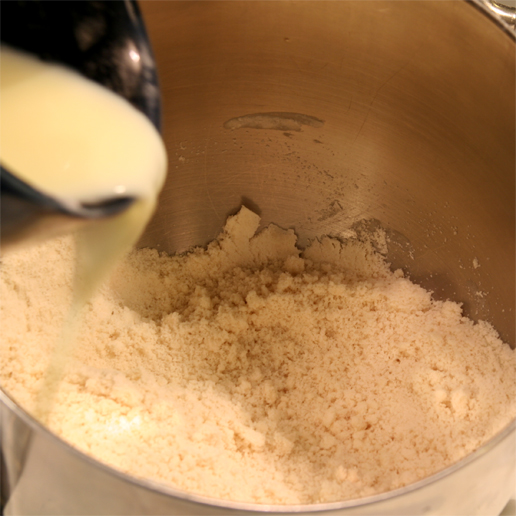 It will quickly mix up into a slightly greasy glob. If you use butter in place of shortening, make sure that it's not overmixed...creating sufficient heat to liquify the butter and cause it to come out of solution and make a big mess. This is also why you need to refrigerate it: so the effect of the heat generated by mixing is minimized by cooling. Rolling out the dough will also heat it, and beyond a certain temperature the dough becomes sticky and unmangeable.

While the dough is cooling, peel the apples. Continuous paring (with a little practice) beats trying to peel the apples with a regular peeler. Extra points are earned if you can peel the apple in one continuous and unbroken spiral.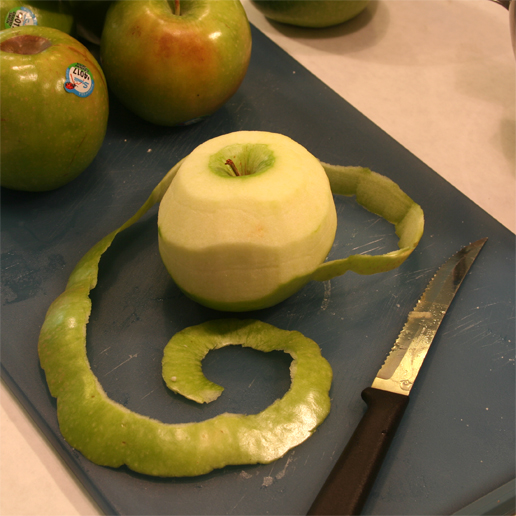 Use an apple corer to section the fruit and separate the core.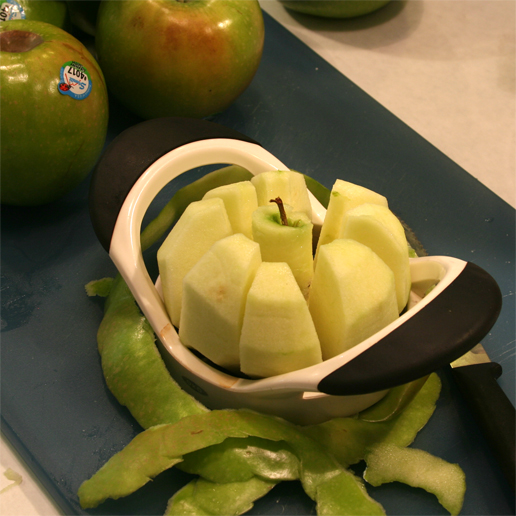 If the apple is large, the sections may need to be sliced in half.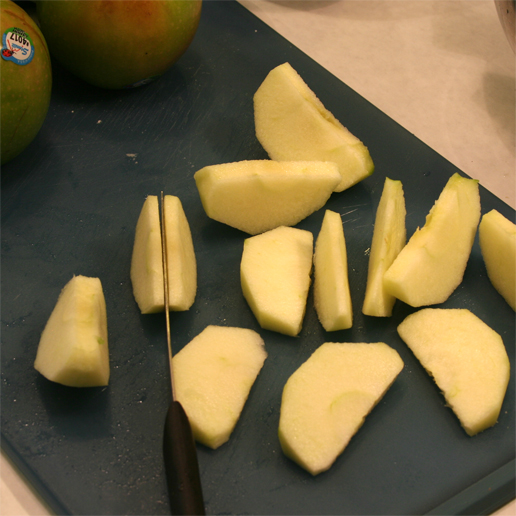 For many decorative oven pie or tart dishes the 4 cups called for in the recipe are way too little...double it!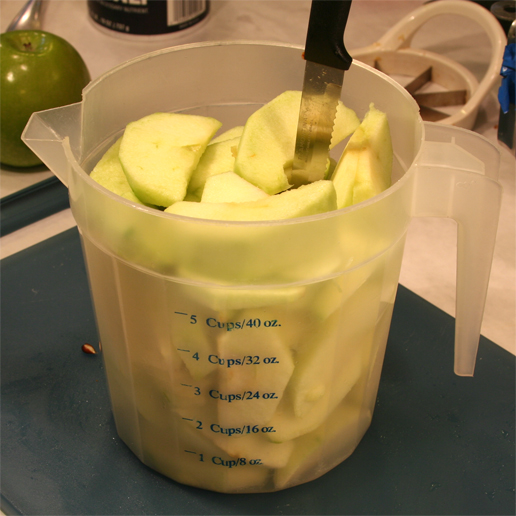 If you're not ready to use the apples immediately, squeeze on a little lime or lemon juice and put them into the fridge so they won't turn brown.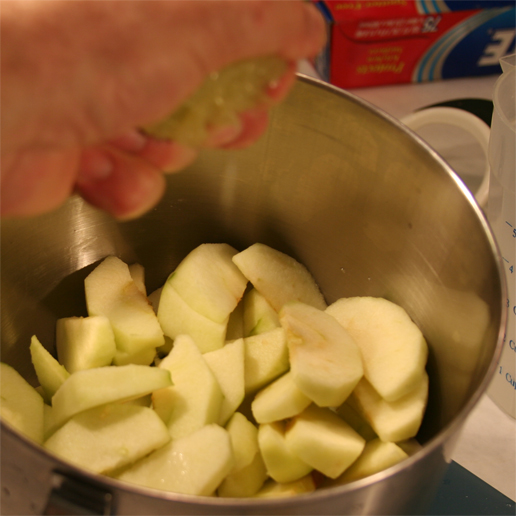 Mix up the pie spices.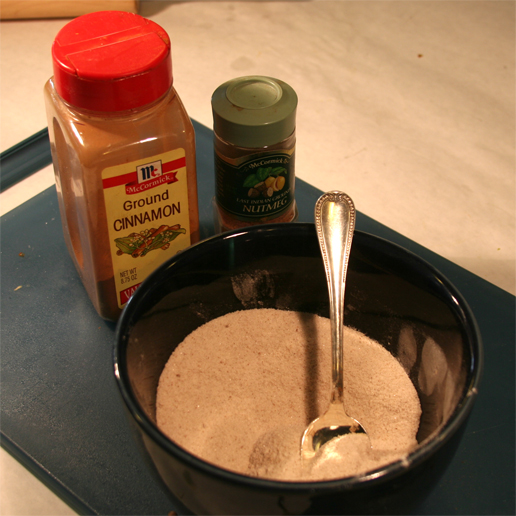 After it's been sufficiently cooled, roll out the dough between layers of waxed paper or it may stick to the rolling pin.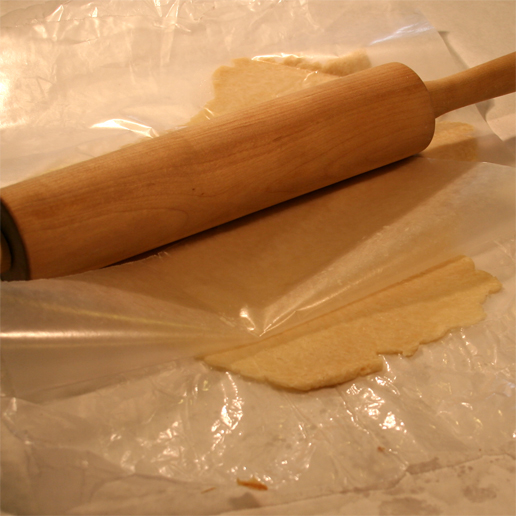 Peel off one layer of waxed paper, turn over, place in the baking dish, then remove the other layer of waxed paper. Mix the spice mixture into the apples, trying to coat them evenly and avoid clumping. Pour into the baking dish mounding them up in the middle.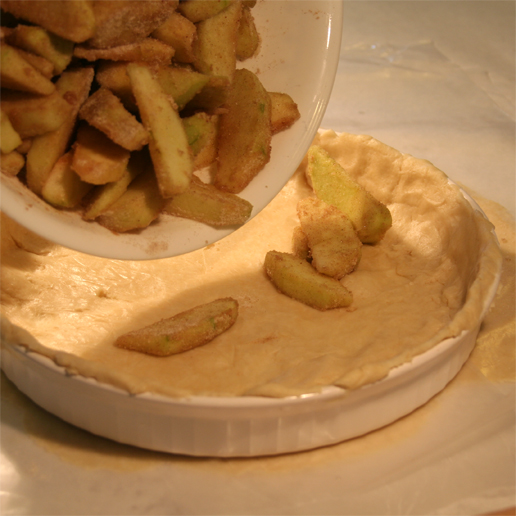 "Dot" with butter...we believe in large dots!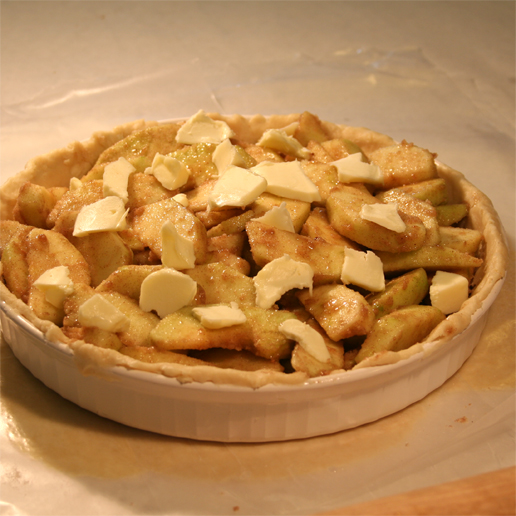 Repeat the process of placing and de-wax-papering with the top crust.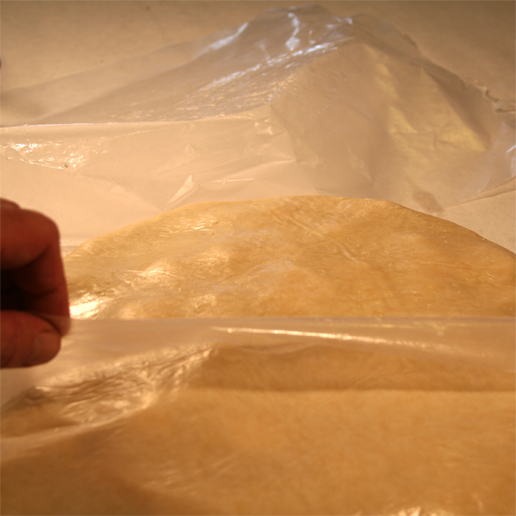 Use a fork or knife to poke ventilation holes in the crust. Here's another opportunity to earn points through creative, illustrative poking. If you have extra crust left over after trimming the top crust, roll out "snakes" of dough and make designs, runic symbols, or what-have-you. Brush on the egg and milk mixture to produce a golden-brown sheen on your finished pie.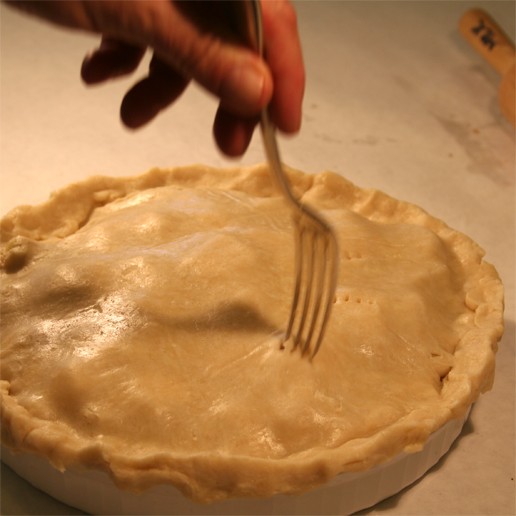 Don't overbake or the apples will turn into apple sauce.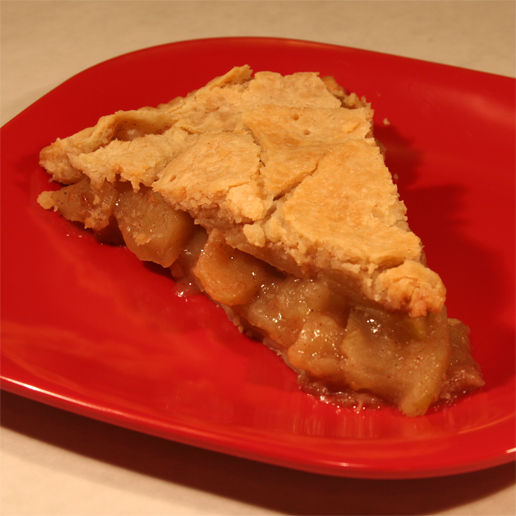 Break out the ice cream before you exclaim, "Charlie, there's your pie."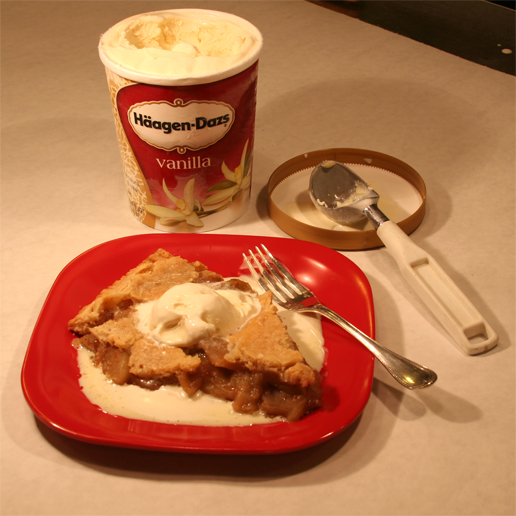 email feedback