1-2-3 Tilapia
It takes the right attitude to prepare the 1-2-3 meals. This is rationalized food preparation, so pay close attention. You're going to get those things going that take time: coating the tilapia fillets, frying the potatoes. In general you're going to imagine the critical path and schedule your actions accordingly without waiting, backtracking, or double handling.


This is the classic PFI method fordeep-fat frying delicate foods like fish and chicken cutlets. Panko, Japanese bread crumbs, is the ultimate breading material, because it browns at the right rate, stays crispy from the first serving out of the pan to last out of the fridge. And, it has a long shelf life. You can buy it in small boxes in the grocery store, or if you deep fry everything in sight, in 20 lb. bags in the Oriental grocery stores. The Kikkoman brand bears an OU.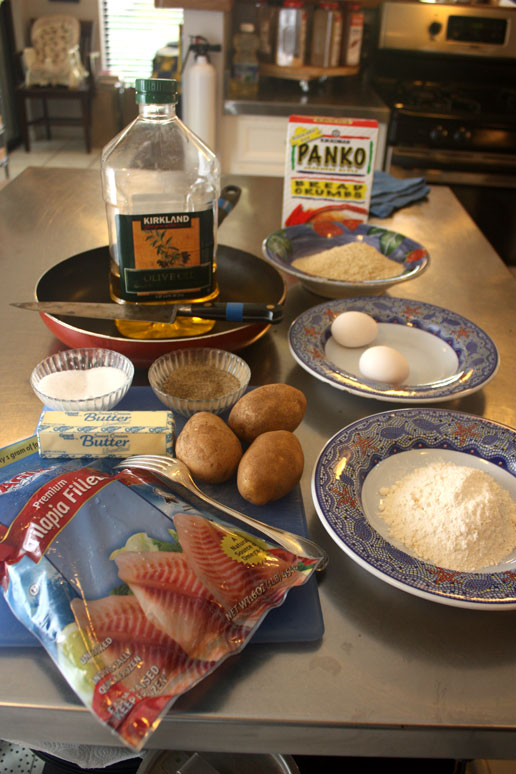 equipment
3 bowls for breading, plates for raw and finished fish, 8" chef's knife, fork, peeler
food
tilapia > flour, eggs, panko, olive oil...

Important note: Dagim tilapia fillets begin to taste fishy when they are frozen for too long, so buy in store with good turnover and use right away...do not leave in freezer or you'll be sorry! If you can find them fresh, even better as long as they're clean fillets.
potatoes > olive oil, salt, pepper, unsalted butter (shown elsewhere)


critical path


process
Put pan with a few tbsp of oil on stove top on <high>. Sliver peeled baker-sized potato/portion in 4, turn 90º then 4 again. Cut into bits along length of slivers, then dump into hot oil. Add salt, pepper, butter, and flip like a pro. (shown elsewhere)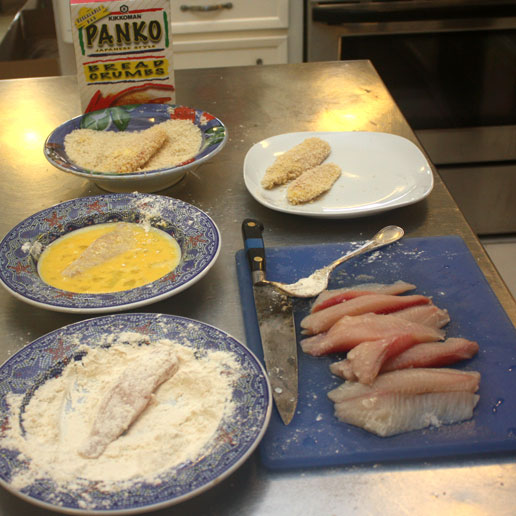 Open bag of defrosted tilapia double fillets, split fillets in two, rinse, and lay on plate. Dredge completely in 1+ cup of flour, then in 2 scrambled eggs, then coat completely with Panko and pile on plate. Use the same setup for chicken cutlets cut into 1" fingers.
When potatoes are brown and mostly crispy, slide out on plate carefully leaving the excess oil in the pan. Add a lot more oil, a shallow lake of oil, and allow to get hot. Take one breaded fillet and dip corner in oil as a test. If it sizzles readily, it's ready to go.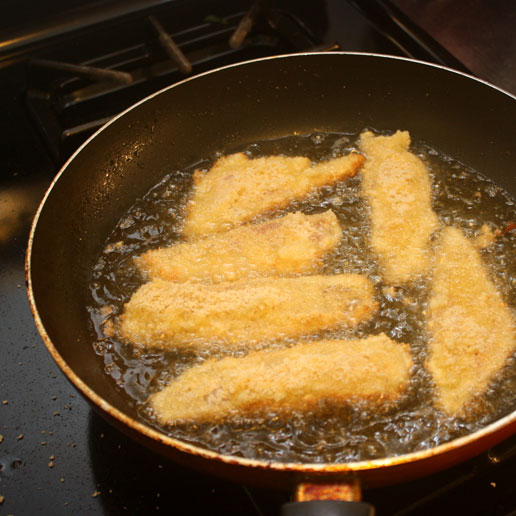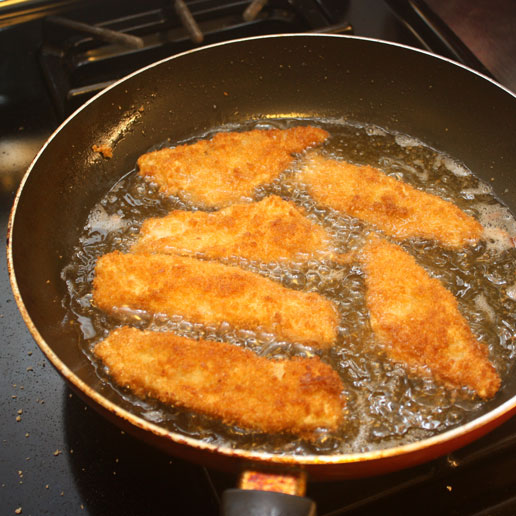 Lay Panko'd fillets in hot oil without crowding. You will need to fry in two batches. Check down side in oil and when nicely brown, flip over. Remember, heat flows from hot to cold so coating will not begin to turn brown until fish has come to cooking temp. So, when it does turn brown, it means the fish is cooked inside. A nice bit of kitchen physics to keep in mind. Second side will fry much faster than first side. Remove to serving plate and replace with remainder of fillets.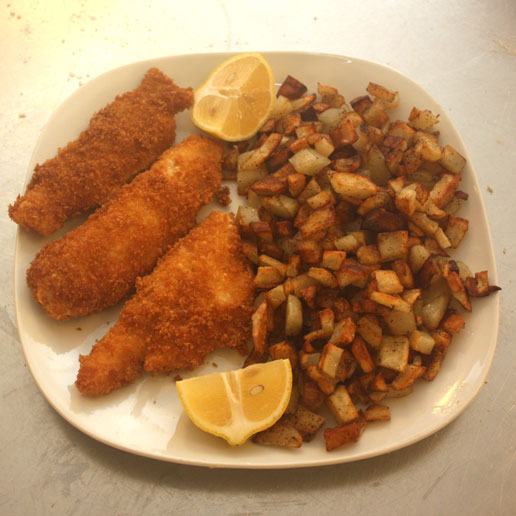 Serve with lemon and salt.