1-2-3 Hamburger
It takes the right attitude to prepare the 1-2-3 meals. This is rationalized food preparation, so pay close attention. You're going to get those things going that take time: frying potatoes and onions, and pre-heating skillet for hamburger. In general you're going to imagine the critical path and schedule your actions accordingly without waiting, backtracking, or double handling.

This is the classic PFI method for cooking hamburgers and steaks and maybe lamb chops. It uses very high heat and NO oil except what is coating the meat to carmellize the surface. Unless the meat is very thin it will cook to rare or medium rare. If you want it more well done, finish in the oven. It may work on a residential range, but will probably not get the pan hot enough or sustain the heat through cooking. In any case it will smoke like mad, and trip all the smoke alarms.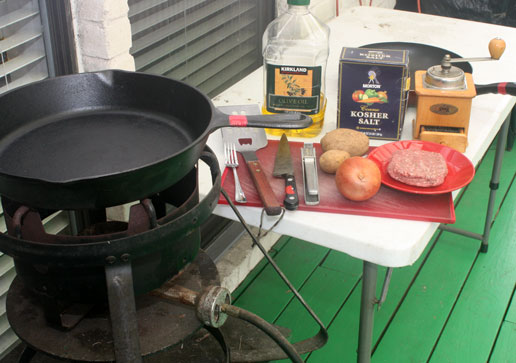 equipment
12" cast iron skillet, 10-12" teflon frying plan, min 50,000 btu gas ring or equal, spatula, fork, peeler, 8-10" chef's knife
food
hamburger > kosher salt, fresh ground pepper, fresh garlic, olive oil
potatoes > salt, pepper, olive oil
onions > olive oil
Israel salad > tomatoes, cukes, celery, salt, pepper, olive oil


process
1. Put frying pan on <high> with a few tbsp of olive oil.
2. Peel baker-sized potato/portion, sliver in 4's in two directions, slice into bits along length of slivers. Dump into hot oil, add salt and pepper, and flip pan expertly to mix.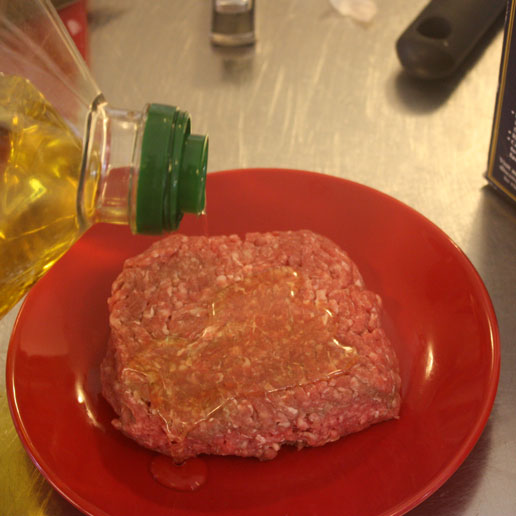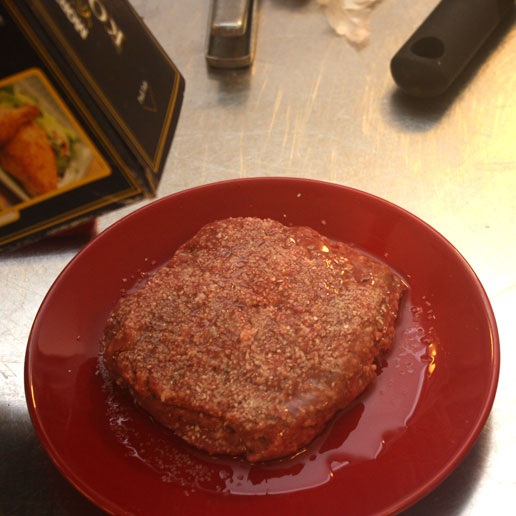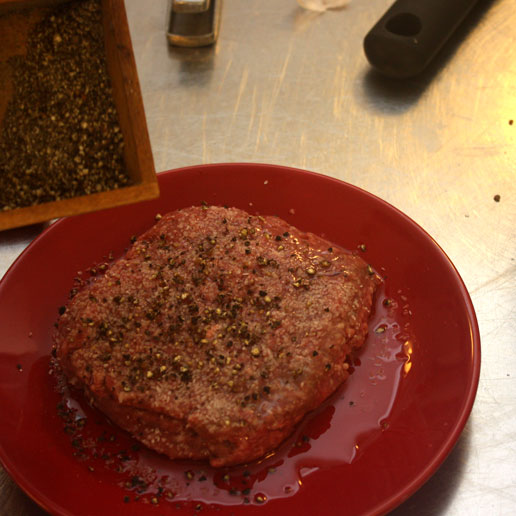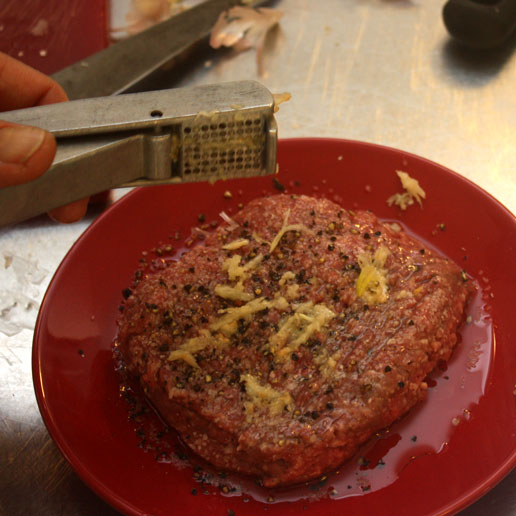 3. Mold 6-8 oz hamburger/portion into 5/8" thick patty, lay on small plate. Pour olive oil over patty, then pick up, turn over, and make sure both sides are fully coated. Shake on kosher salt, freshly coarse-ground black pepper. Squeeze (don't smash) out two cloves of fresh garlic per side. Garlic should lay flat so it doesn't burn when cooking at high heat.


4. Put dry cast iron skillet on gas ring. Use infrared gun to make sure temp. in center of skillet exceeds 500º.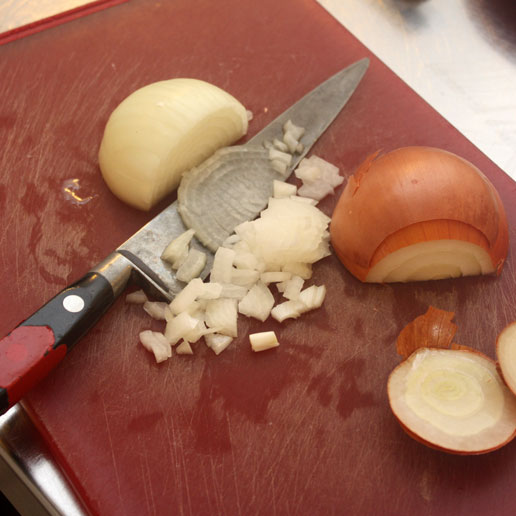 5. Peel and dice/chop one med. onion. If it takes more than 30 seconds, you don't know how to use the knife. Add a few chopped onions to cooking potatoes.
6. Potatoes should be done...brown and crispy...put on plate.


7. Add oil to pan and put in chopped onions.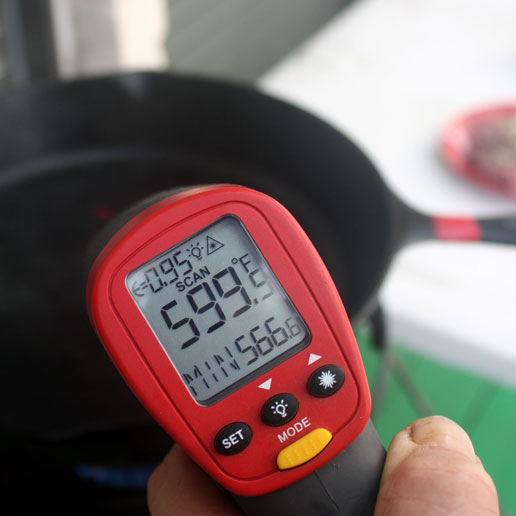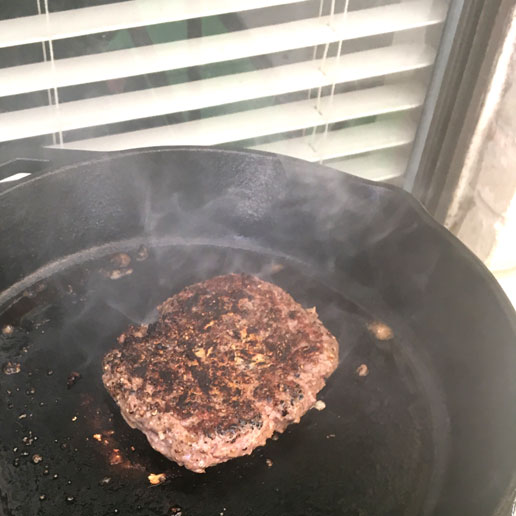 8. Skillet should be hot. Put on spiced, oiled hamburger patty in center and use spatula to push down. It should smoke up a storm. Time two minutes on one side then flip with spatula and time two minutes on other side.
9. When onions are all translucent and some crispy brown, place on plate next to potatoes.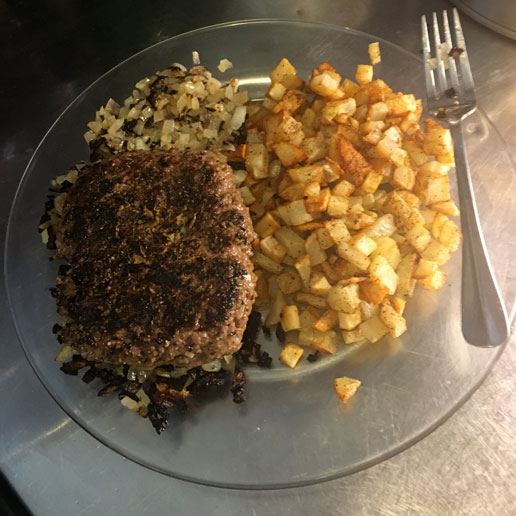 10. Go get hamburger and place on bed of onions. Serve with cup of Israeli salad.


Final note re: cast iron skillet...when new it should have been seasoned with olive oil in a hot oven (or come pre-seasoned)...never wash after use, just wipe out with paper towels and put away.