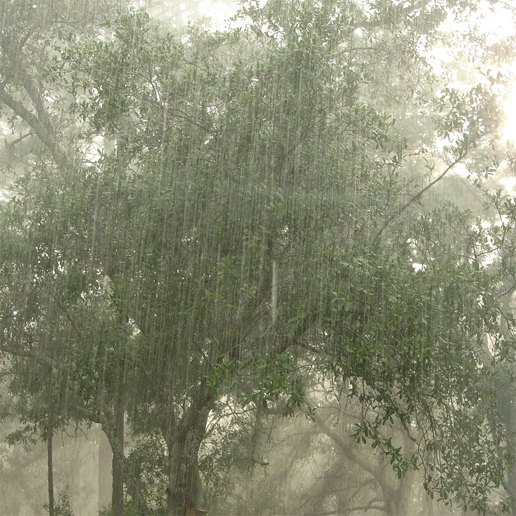 Why are there two separate appeals for rain in the Shemona Esrei?
The Anshei Kenesset HaGedolah, the rabbinic body that prophetically composed the text of the prayers that we say today, prescribed that we pray for rain in two different places in the shemoneh esrei. These appeals for rain take the form of two short additional phrases that are inserted into the text of two separate brachot in the regular amidah that we say everyday. Not only are these phrases and their locations different, but the days that they are said are different as well. There's also a difference when they're said depending on if one is in Eretz Yisrael or not. As with all such insertions that the rabbis ordained, they were very precise as to where, when and what was to be added. So much so, that if an error was made, in any of these parameters, the whole tefila was invalidated and had to be repeated. Why is it that we have this somewhat convoluted approach when we pray for rain?

First of all, what are these added phrases and where, exactly, are they inserted? The two places in shemoneh esrei where we insert our appeals for rain occur in the second bracha which describes God's great strength called gevurot and in the ninth bracha called birchat hashanim in which we ask for livelihood. In the bracha of gevurot we insert the phrase: mashiv haruach u'moreed hageshem which means ". . . He who causes the wind to blow and the rain to fall" and in the birchat hashanim we insert the phrase: v'tain tal u'matar lebracha which means ". . . and grant dew and rain for a blessing".

It's important to note that these two brachot represent two fundamentally different types of tefillot: those of haskara, acknowledgement and those of bakasha, requesting. Tefillot of haskara are those that acknowledge and praise God for His great attributes and characteristics. The bracha of gevurot, in which mashiv haruach is said, is a tefila of hazkara and consists of praising God for the great deeds that He personally performs that are outside the natural order. Included in this, are the resurrection of the dead and providing the sustenance of every living creature. Because rain is essential for sustenance, this bracha is the appropriate place to mention the wind which blows the clouds that bring the rain.

On the other hand, tefillot of bakasha are those where we actually request our needs from God directly. The birchat hashanim, in which we insert v'tain tal u'matar, is such a tefila. In this bracha we appropriately request of God that he provide us with our livelihood. Of course, throughout history, prosperity and livelihood were, to a large degree, dependent upon how much and what kind of rain an area received. Hence, this too is a very appropriate place to appeal for rain.

With respect to when we make these insertions, the idea is that we make them when the need is before us. Since the tefillot were established for the land which our heart and soul desires, namely Eretz Yisrael, we make the appeal for rain between Sukkot and Pesach as this is Israel's rainy season. Because rain and wind are only mentioned when they will actually occur, we stop saying mashiv haruach at Pesach and begin again on Shemini Atzeret. It's a little more complicated when it comes to v'tain tal u'matar because we don't start saying it on Shemini Atzeret but rather somewhat later – in Eretz Yisrael on the third of Cheshvan and in the Diaspora on December 4th (December 5th in a leap year).

The reason is because each country needs rain at different times. In Eretz Yisrael that time actually begins on Shemini Atzeret. However, the Mishnah states that we should wait to begin saying the additions until the 3rd of Cheshvan. This was to allow the people who traveled to Yerushalayim for the holiday enough time to travel back to their homes without being inconvenienced by muddy roads and rain engorged streams. So great is the power of tefila, that our rabbis knew that if we, as a people, prayed directly for rain with v'tain tal u'matar that the returning pilgrims would surely get soaked. The situation, however, in the Diaspora, mainly Babylonia at that time, was different. In Bavel the terrain did not have the hills and valleys that Eretz Yisrael did and, therefore, didn't need rain until later in the year. It was, therefore, established that v'tain tal u'matar would not be added in Bavel and the Diaspora, in general, until a somewhat later date, one which corresponds to our December 4th or 5th.

So we see, praying for rain is serious business. Hence, our two separate appeals in different brachot and our different schedules for saying them. Underlying all, however, is the fundamental idea that HaKodesh Boruchu is the One who runs this world and it is He, alone, who determines, in His infinite wisdom, when the rain will fall and how much rain there will be. Our job is to merely to ask of Him what we need and realize that we are always dependent upon Him.

Rabbi Eliezer Kessler
Houston, Texas