It is obvious from what we receive on Purim that many families devote a lot of time, effort, and expense to producing a drop-dead killer basket. We tend, however, to favor the workman-like and useful offerings. We think like the Plains Indians and the buffalo...nothing should be wasted.


You can start with the container or the contents, but don't fall in love with either and commit yourself to a package that cannot be economically completed. Check the dollar store for containers for availability in the quantities you require. Keep in mind storage and handling: this model stacks compactly in any attitude or direction, and can be tossed around without spoiling the contents. We selected a "two-sandwich" container with compartments. Then, with sample in hand we went to Sam's to find the appropriate fillings loosely organized around the theme of a continental breakfast or light morning snack.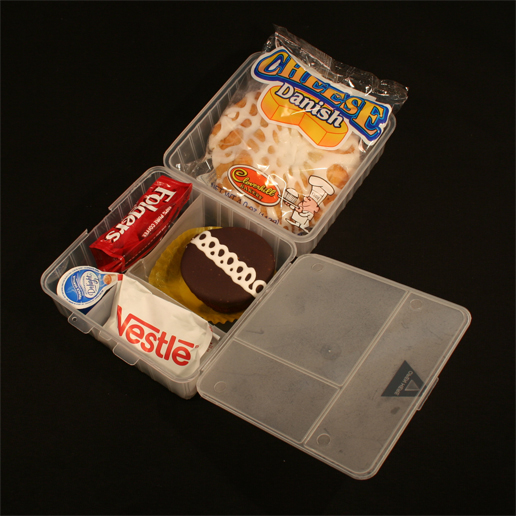 Here is how it breaks down in terms of dollars and cents. We set a $2.00 limit for the whole package before we started. We ended up with the following: plastic sandwich container = $1.00, cheese danish = $0.40, (one) chocolate cupcake = $0.20, cocoa = $0.14, coffee = $0.19, creamer = $0.02. Total = $1.95.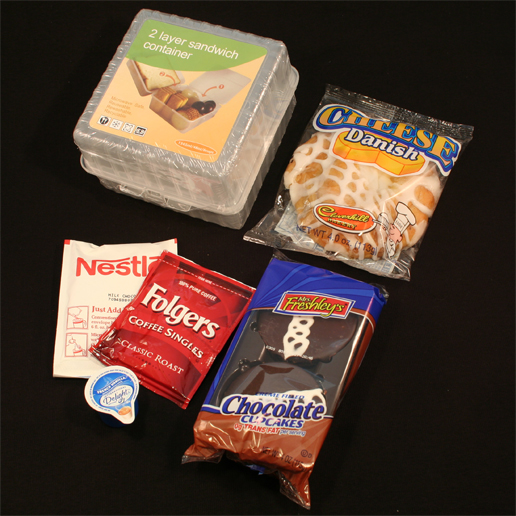 The cover's decoration may be as plain or fancy as you and/or your children's skill and patience permits. We threw together something with construction paper, deckle-edged scissors, and a Hebrew word processing program.