Ordinarily we don't monkey around with household fixits, if a professional repair can be had at a reasonable price. But, here's something so cheap and easy that can be done in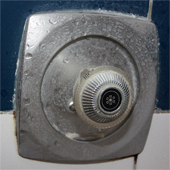 place of what could easily be a very costly and messy job.
The problem:
a shower head that continues to drip long after you've turned off the valve. If you don't fix it, the constant drip can substantially add to your water bill. At best you'll have to call a plumber to replace the cartridge, if the part is still available. At worst the plumber will have to bust open the tile, remove and replace the shower control valve.
The solution:
go to Home Depot and buy a plastic 1/2 inch valve with two female threaded ends; a 1/2 inch x 1" plastic nipple (2 male threaded ends); and a small spool of teflon pipe tape. That should set you back about $3.00. Find a wrench or vice-grips or pliers and unscrew the shower head from the water pipe protruding from the wall (make sure water is turned off at valve below...don't worry if it continues to drip). Wrap the pipe with a few turns of teflon tape and screw on the valve. Now, wrap both ends of the nipple with teflon tape and screw into the plastic valve. Finally, screw the shower head onto the other end of the plastic nipple.
And for the finale...turn the newly installed plastic valve handle perpendicular to the flow. Open the shower valve below full-blast and observe...not a drop of water comes out of the shower head. Turn the plastic handle parallel to the flow and voila...the water gushes forth. One leak - fixed!