1-2-3 Salmon
It takes the right attitude to prepare the 1-2-3 meals. This is rationalized food preparation, so pay close attention. You're going to get those things going that take time: boiling water for the potatoes and heating the oven for the salmon. In general you're going to imagine the critical path and schedule your actions accordingly without waiting, backtracking, or double handling.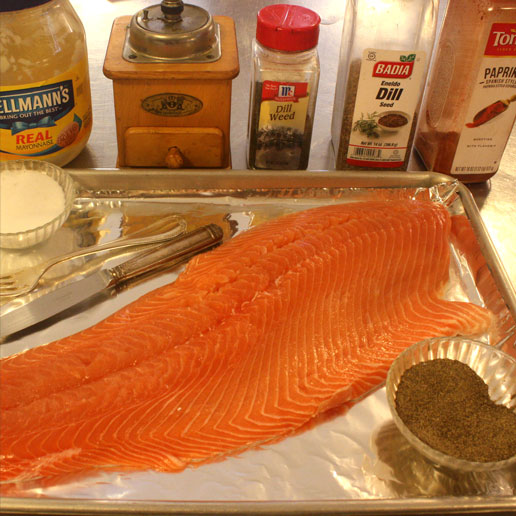 equipment/utensils
Equipment needed: sheet pan and alum foil for salmon, 3 qt pot w/cover for potatoes, 1 qt pot w/cover for beans
Utensils needed: potato masher, whisk, fork, peeler, spatula, 8" chef's knife
ingredients
salmon > real mayo, salt, ground pepper, paprika, dill weed, dill seed
potatoes > stick salted butter, milk, salt, pepper
green beans > salt, pepper
Israeli salad > tomatoes, cukes, celery, salt, pepper, lemon
fruit > you're on your own
dessert > ditto
critical path


process
1. Start by turning on your oven to 350º for the salmon.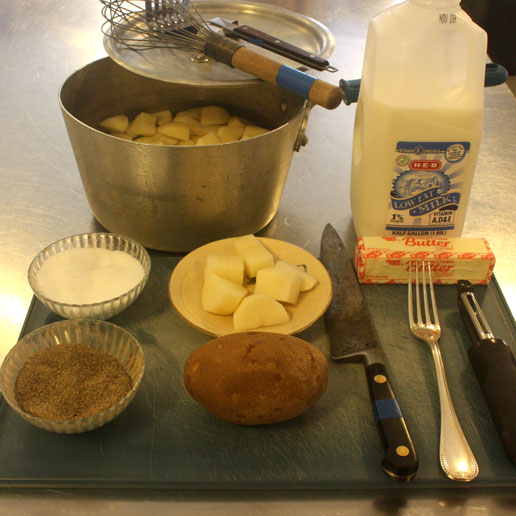 2. Then putting about 1.5" of water in a 3 qt pot w/cover on <high> on the stove top.
3. Peel at least two baker-sized potatoes, cut in half longitudinally, then in qtrs latitudinally...dump in soon-to be-boiling water with a little salt. Add water if it doesn't cover the potatoes.

4. Take a sheet pan, line with alum. foil, then rinse your salmon fillet in cold water. Pat dry then lay out fillet on alum foil. Slather with real (Hellmans) mayo on all visible sides/edges. Sprinkle on salt, ground pepper, then redden with paprika. Sprinkle on dill weed, then dill seed. Put in oven on <bake> at 350º for 10 min.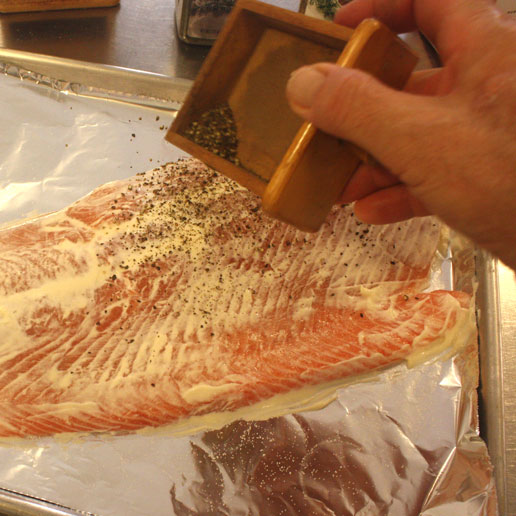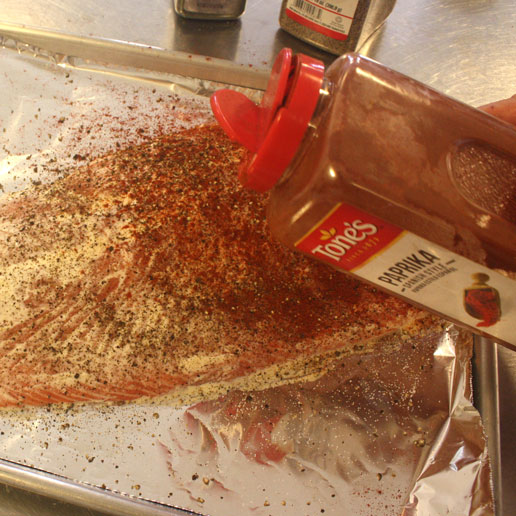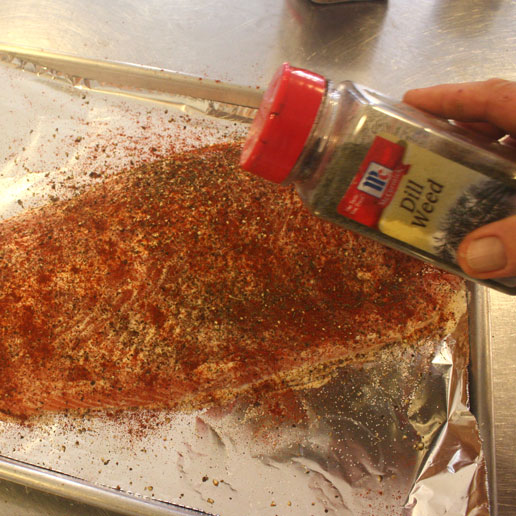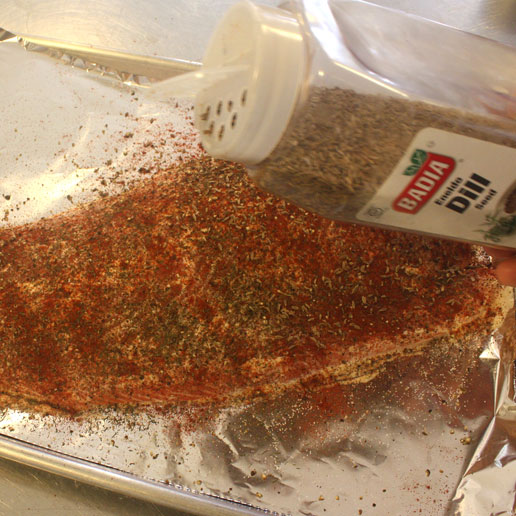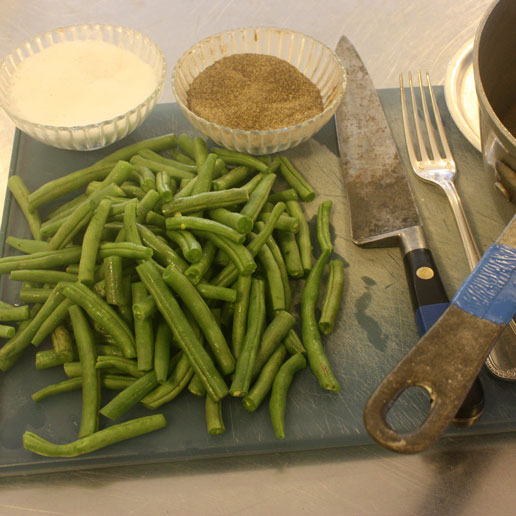 5. Quickly clean green beans by slicing off tops and bottoms by the handful. Do this in advance if you can't do this fast enough. Put 0.5" water in the 1 qt pot, dump in the beans, add salt and pepper, and put on stovetop on <high> covered.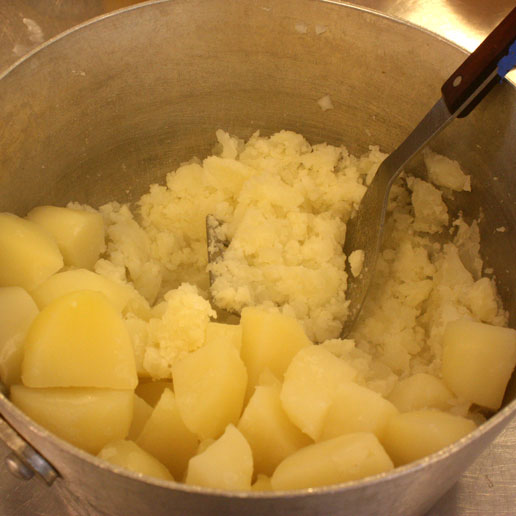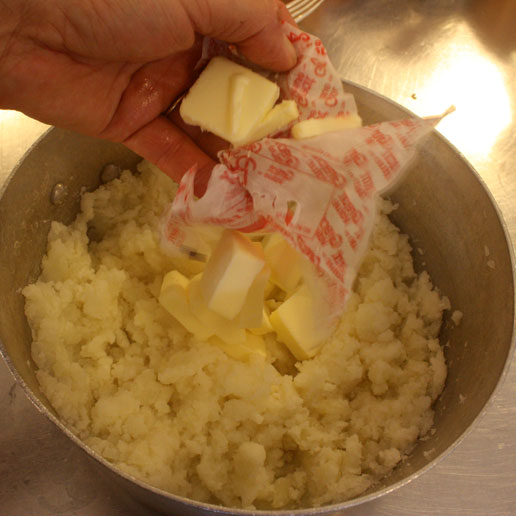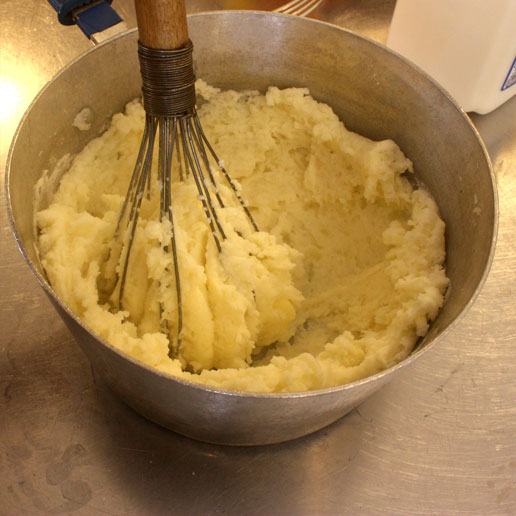 6. Cut the butter into 1/4" thick pats. The potatoes should be boiling merrily, so check with fork for doneness. When fork goes through the pieces without breaking them up, they're done. If the pieces break up into crumbs, they're overcooked. Don't overcook! Remove from stove, drain using cover. Mash the potatoes. Dump in the butter pats, just a little milk, then start to whisk until smooth and creamy. Set aside.
7. Check beans by tasting one for crunch. When just done, take off stove, run under cold water to stop cooking process, and set aside.

8. When 8 of 10 min. in the oven has elapsed, turn oven to <broil> but do not move the salmon up under the broiler...yet.
9. Check salmon for doneness by sticking fork into a few places...it should go through to bottom without resistance. Move pan under broiler for 3-5 min. Do not overcook? The salmon should yield to the fork into juicy pink flakes, and the surface should be dark and sizzling. If the interior is white, it was overcooked.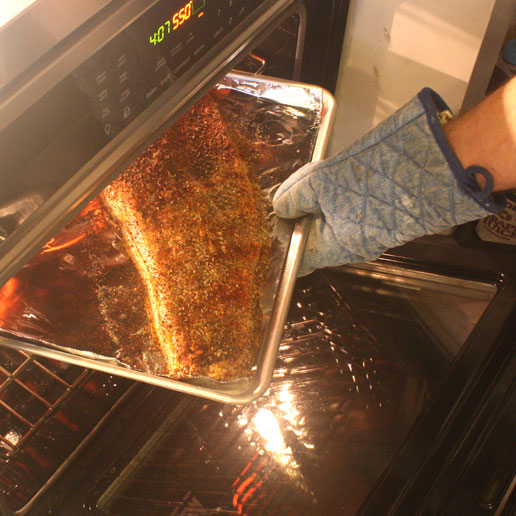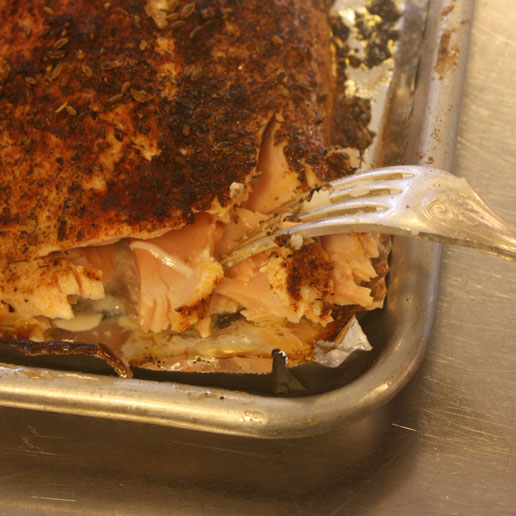 10. Now you're ready to plate up. Use spatula to first cut across the fillet for portion size, then slip between skin and fish to remove to plate. Add a nice scoop of mashed potatoes and a small pile of green beans. Serve with cold, dry white wine...or a nice glass of cold water.