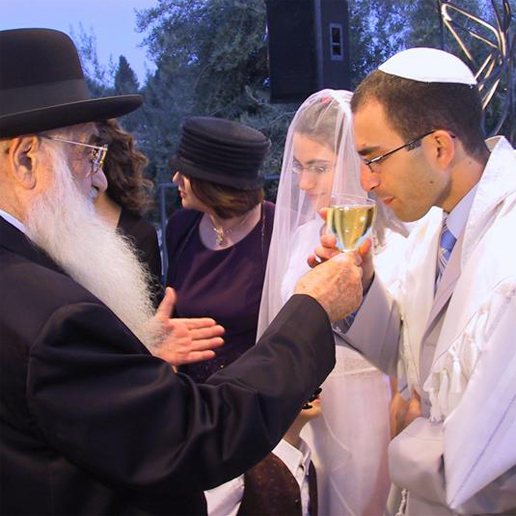 Why Do Jewish Brides (and Grooms) Wear White?
Everyone loves a wedding - particularly a Jewish wedding with all the joyous singing, dancing and eating. Of course, the reality is that a Jewish wedding is much, much more that that. As the Hebrew word for wedding suggests, kiddushin (from the root word kodesh) is first and foremost a time of holiness. Certain of our wedding customs, many of which have become universally accepted, bear this out. One such custom, the white bridal gown, is a prime example. What's the origin of this custom and how did it come down to us?

The Torah tells us that Eisav, Yitzchak's eldest son, married Machlat, the daughter of his uncle Yishmael. The Gemara points out an obvious discrepancy. Earlier in the Torah, when Yishmael's children are listed, only one daughter, Basmat, is mentioned. The Gemara explains that Basmat and Machlat were, in fact, one and the same person. The name Machlat is from the Hebrew word "mochel" which means "to forgive". The point of the Gemara is that her name was changed to Machlat to express the idea that when a person gets married, all of his or her previous sins are forgiven. Our rabbis applied this concept to many different halachot involving a chattan and kallah on their wedding day.

One of the most basic applications of this concept can be seen demonstrated by what the chattan and kallah traditionally wear at their wedding. Of course, we are all familiar with the idea that the bride wears the classic beautiful white gown on the occasion of her wedding. Many might be surprised to learn that the chattan also is supposed to wear white. The Kol Bo (circa 1450 C.E.) writes that the chattan should wear white to fulfill the pasuk in Kohelet, "At all times your garments should be white." Indeed, it is in fulfillment of this that Jewish grooms traditionally wear a white robe like garment called a kittel while under the chupah. Hence, at a traditional Jewish wedding both the kallah and the chattan are wearing white.

The commentaries learn that this should be taken as a metaphor for one's deeds; that all one's actions should be pure. This is certainly fitting in that on this day when the chattan and kallah are joining together in marriage, they are making a solemn commitment to each other to keep themselves pure. The white clothing is symbolic of this commitment.

We also find that white is associated with teshuva or repentance. The source of this is the pasuk in Yishayahu which tells us, "If your sins are like scarlet, they shall be white as snow." How appropriate then, that on their wedding day, when the couple begins with a clean slate, that they wear white to also symbolize that their wedding day is also a day of repentance.

The Rema, Rabbi Moshe Isserles (1525-1572 C.E.) writes in the Shulchan Aruch that a chattan and kallah should fast on their wedding day. He quotes this halacha in the name of the Maharam Mintz, Rabbi Moshe Halevi Mintz (1415–1480 C.E.) who in turn bases his logic on the aforementioned idea that the wedding day is a day where the sins of the couple are forgiven. The Maharam Mintz also adds an additional reason, a concern that if the couple would be allowed to eat on this day, they might celebrate and might drink and become intoxicated. This would create a problem in that the couple might not be of sound mind at the time of their marriage.

The difference between these two reasons plays out in a very interesting way. If the couple would get married on a day when it is not permitted to fast, such as on Rosh Chodesh or on Chanukah, then they would eat but would have to do so very carefully so as not to become intoxicated. Interestingly, in the case of an under-aged bride, the halacha is a bit different. Although we don't practice this today, according to Torah law a girl who is not yet of bat mitzvah age may be married off by her father. Accordingly, in such a case, the girl would not have to fast at all in that she halachicly does not have any sins to be forgiven. However, her father would have to fast to insure that he is of sound mind when he marries her off.

What we've seen regarding the custom of wearing white at weddings is just one example of how many generally accepted practices in the non- Jewish world, in fact, have their roots in Judaism and traditional Jewish practice. Many in the general community might be surprised to discover this connection and perhaps a bit reluctant to acknowledge it. We, as Jews however, should always be proud of our heritage and of the many wonderful contributions it has made, especially in spiritually elevating the world, at large.

Rabbi Eliezer Kessler
Houston, Texas